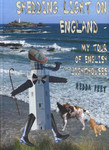 Shedding Light on England
My Tour of English Lighthouses
Eesti keelest tõlkinud Reet Järvik
66-leheküljeline suures formaadis ning kõvas köites raamat (inglise keeles)
Tutvustus
I have a serious case of Wanderlust! Last summer mum and I toured Estonian lighthouses with our dog, Joss and sometimes also with our cat Jupi. I kept a travel diary which later became a book called 'My Lighthouses'. Those trips were great and mum promised to figure out something really good again for the following summer. Nobody could have imagined that the summer would turn out to be as hot as the Mediterranean; that we would go swimming every day and that we wouldn't want to travel any further afield. It was just so good to be at home!

But then autumn arrived and mum's soul was already starting to become restless. She is incapable of just sitting around and she always has to be doing something, going somewhere and or dashing about. Some people view all this fuss with suspicion but I like it because it always makes life interesting.

Neither of us had managed to get our obsession with lighthouses out of our systems. This bug had definitely got a firm hold on us and I doubted whether we would ever be able to rid ourselves of it entirely. During the hot summer, mum had been making travel plans and then one day she suggested that we take a trip to England to look at the lighthouses there. Of course, we could also visit other places and I would be able to keep a travel diary again.

Mõõdud 214 × 304 mm
ISBN13: 9780755214440