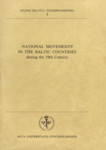 National Movements in the Baltic Countries during the 19th Century
The 7th Conference on Baltic Studies in Scandinavia, Stockholm, June 10-13, 1983
Koostanud Aleksander Loit
Raamat on müüdud
Tutvustus
Raamatus on 47 ettekannet, mis peeti samateemalisel konverentsil 1983. aastal.
The papers examine from various points of view the complex historical process within the economic, social, political and cultural spheres of society, that resulted in the moulding of ancient Estonian, Latvian and Lithuanian peoples into nations in the modern sense of the word.
Since the process of nation building constitutes an important period in the history of Europe generally, the studies in this volume intend to bring to the forefront the comparative aspect of the nature of the national movements and the forms of their manifestation both from the interactive aspect of the Baltic peoples as well as in the context of the developments in Europe in general.
This volume is thematically divided into the following sections:
General Ideology and Politics Economics and Social Conditions Education and Language Literature and Journalism Art and Music Folklore and Folk Culture
Mõõdud 155 × 218 mm
ISBN: 9122007768
ISSN: 02825066