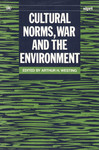 Cultural Norms, War and the Environment
Toimetanud Arthur H. Westing
177-leheküljeline ümbrispaberiga tavaformaadis ja kõvas köites raamat sarjast
Sipri
(inglise keeles)
Heas seisus kasutatud raamat
Hind: 14.06 €
Tutvustus
The most immediate threats to humankind are military devastation and environmental exhaustion, both on a global scale. The Stockholm International Peace Research Institute, in co-operation with the United Nations Environment Programme, presents with this book the fifth major study in a series that examines the links between these two threats.
As early as 1899 the Hague Conventions affirmed the principle that «the right of belligerents to adopt means of injuring the enemy is not unlimited». In 1977 additions to the Geneva Conventions extended this principle in these words: «it is prohibited to employ methods or means of warfare which are intended, or may be expected, to cause widespread, long-term and severe damage to the natural environment».
In this study, specialists from several disciplines examine the connections between military activities and the environment; they discuss the role of our environmental norms, past and present, in inhibiting war, and suggest how such norms could be strengthened. The result is an important contribution to our understanding of how war can be constrained and our environment preserved in a culturally, politically and economically diverse world.
Arthur H. Westing, Senior Research Fellow at the Stockholm International Peace Research Institute through 1987, at the International Peace Research Institute, Oslo as of 1988 and Adjunct Professor of Ecology at Hampshire College in Amherst, Massachusetts, is a recognized authority on the ecological impact of war.
Mõõdud 159 × 240 mm
ISBN: 0198291256